---
MeRT: A Breakthrough Treatment To Create Harmony in Your Brain
---
This cutting-edge, non-invasive technology uses a highly personalized treatment protocol to reshape your brainwaves and restore brain communication.
How MeRT Works to Create Harmony in Your Brain
Your brain contains approximately 100 billion nerve cells (neurons), which communicate via brainwaves on specific pathways in the brain.
The more often your brain uses a pathway, the stronger it gets, but when forces—either internal or external—disrupt brain activity, these pathways can become weaker, or completely unused. Internal or external forces can include:
Amazingly, some people can still function in their day-to-day activities after experiencing a force that disrupts their brainwave activity like this. Others, however, aren't so fortunate. And they may experience debilitating symptoms that won't go away despite therapy and medication.
MeRT is a different way to deal with this brain imbalance. It's drug-free, non-invasive, and lasting. By restoring the unused, weakened pathways in your brain, MeRT can bring balance and harmony. And that can mean greatly improved brain health — and a vastly improved quality of life!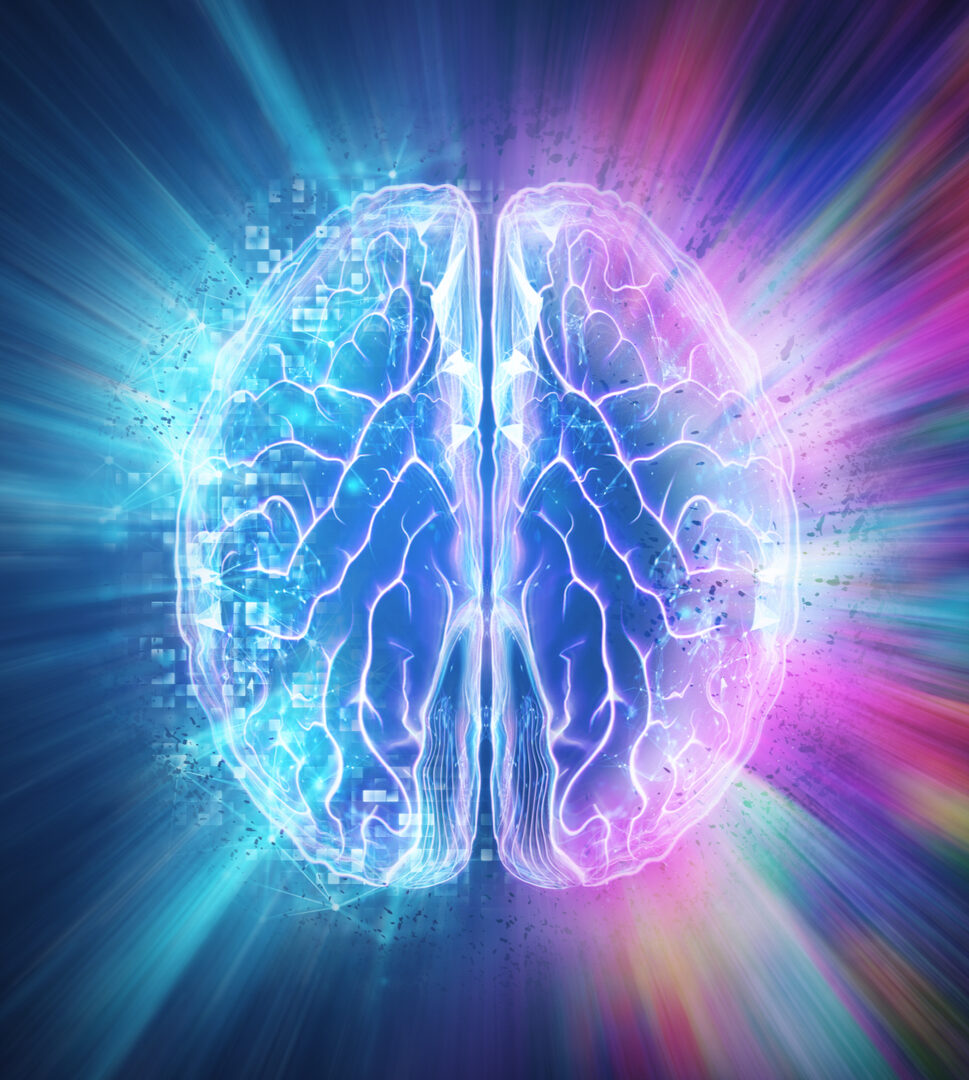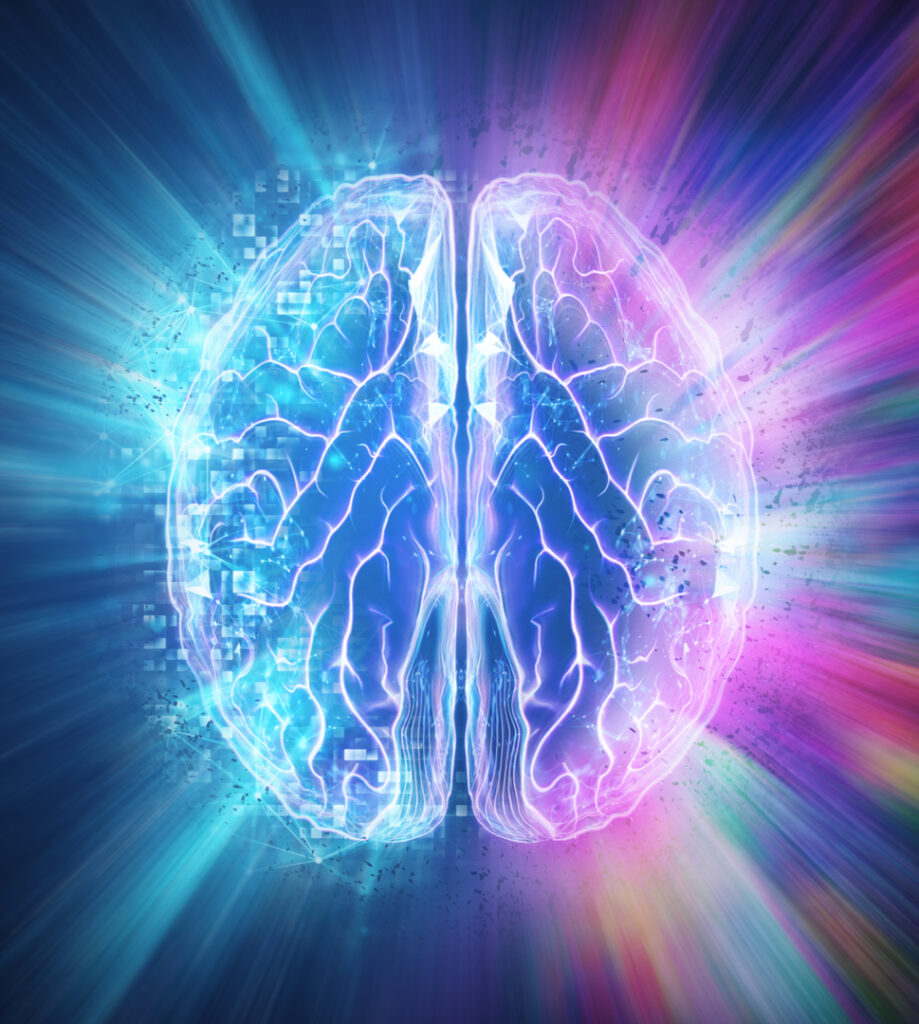 Talk with our New Patient Coordinator
She can answer your questions, explain the procedures and go over all the details. Or fill in the form at the bottom of this page and she will contact you.
The 3 Components of MeRT
MeRT, or Magnetic e-Resonance Therapy, uses a three-part protocol that measures, analyzes, and improves brain function. The three parts are:
qEEG
(quantitative electroencephalogram)
Also known as "brain mapping," this non-invasive procedure simply involves placing a cap on your head to map your brainwaves.
ECG/EKG
(electrocardiogram)
At the same time, this procedure measures electrical signals coming from your heart. This helps us target the therapy to be as accurate as possible.
rTMS
(transcranial magnetic stimulation)
After we complete the testing and analyze the results, we place magnetic coils along your scalp to stimulate specific areas of the brain.
Dr. Erik Won, President of Wave Neuroscience, discussed how MeRT works to restore brain balance during his appearance on the Broken Brain podcast.
Why the EEG is Key in MeRT Treatment
"All of us, during our waking hours, have something called an alpha frequency where our brain most comfortably operates. It's a cycle rate where we're all somewhere between eight and 13 Hertz. And you might be, for example, an 11.4 Hertz brain. I might be an 8.9 Hertz brain. And somebody else might be a 10.3 Hertz brain. It's just kind of where we're born.
"But when we get these brain images—whether it's through the physical trauma of a blast injury, or the chemical trauma of years of drug use, or the emotional trauma of seeing a loved one pass away—we may find areas of the brain that are not cycling at the same rate as the rest of our cortex. …
"EEGs (electrical pictures of the brain) can tell us when there are abnormalities in neural networks. …We can look at these signals and find areas that are abnormal, [then we] use this FDA cleared technology, Transcranial Magnetic Stimulation, to navigate to the area that's not working properly and try to stimulate it and remind it that it wants to fire at a certain frequency and a certain rate."
Some of the Reported Benefits from MeRT Treatment*
Patients of all ages and from all walks of life have reported some amazing benefits from their MeRT treatment. These benefits are different for everyone but may include:
Improved Sleep
Increased Relaxation
Better Concentration and Focus
Improved Memory and Mental Clarity
Decreased Pain
Better Mood
Improved Ability to Cope with Stress
Increased attention span
More motivation
Fewer cravings (such as drugs or alcohol)
Improved emotional stability
More clarity of thought
Increased ability to adapt to change
Improved self-confidence and self-esteem
*Results are based on strict compliance with our treatment regimens. Results may vary based on each individual and are not guaranteed.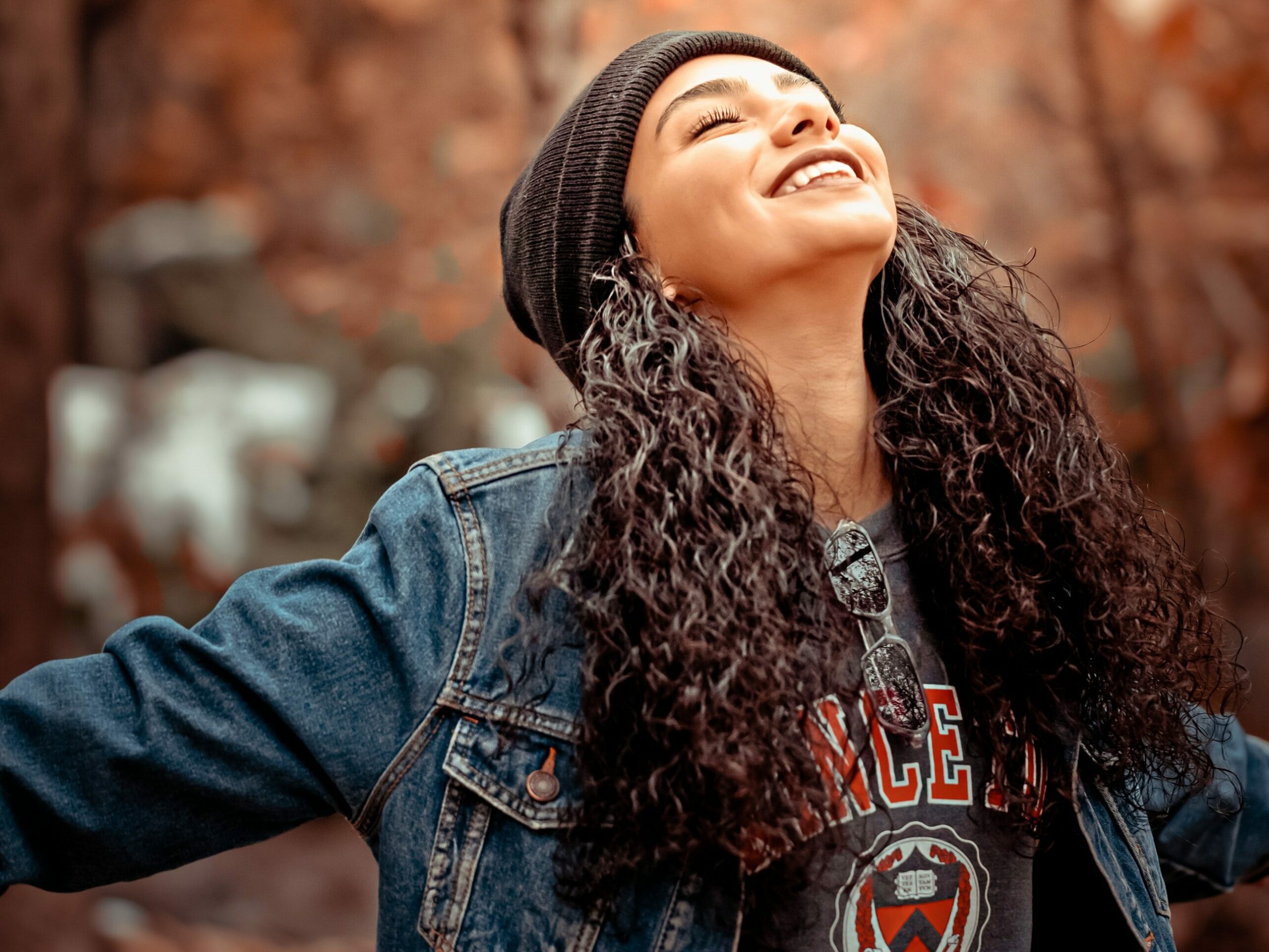 Talk with our New Patient Coordinator
She can answer your questions, explain the procedures and go over all the details. Or fill in the form at the bottom of this page and she will contact you.
The Steps of MeRT Treatment
MeRT is non-surgical, non-invasive, painless, and completely drug-free. The steps of MeRT treatment are as follows: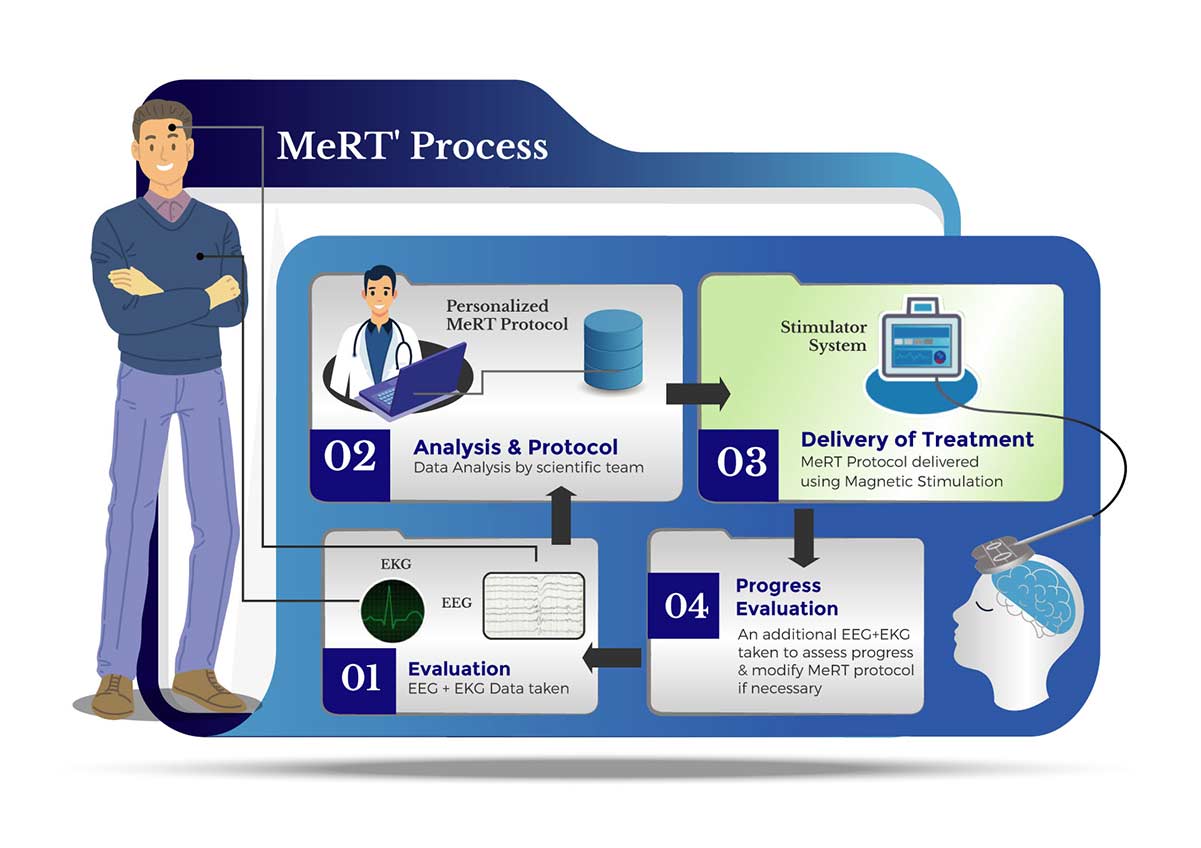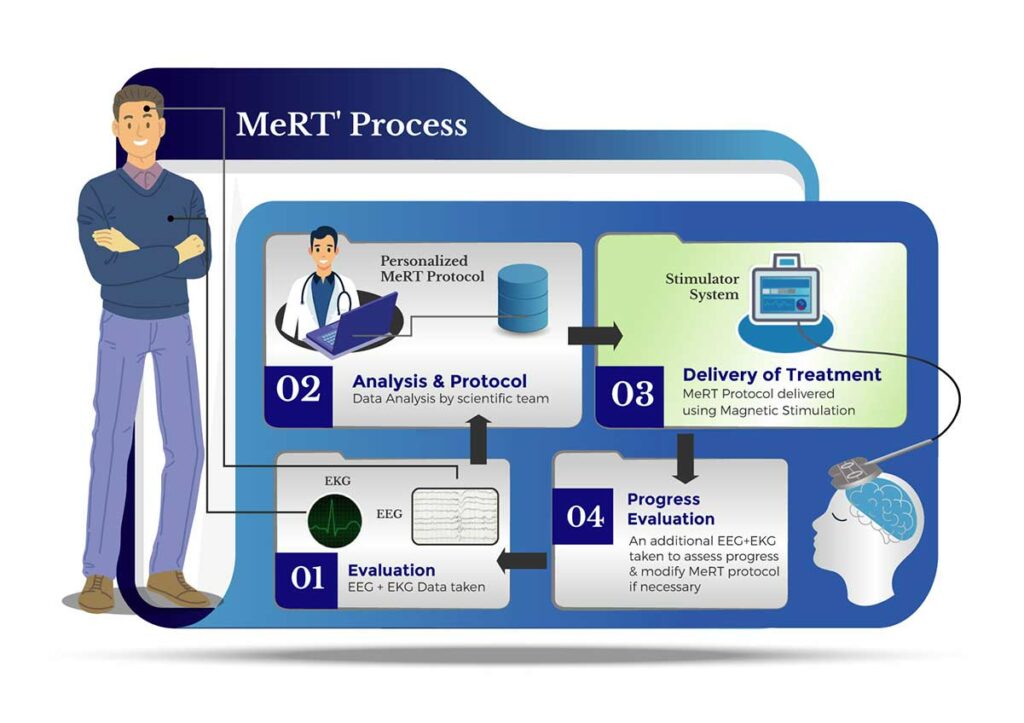 1. Testing and Evaluation
At your first appointment, we will perform the qEEG and EKG tests right in our office. These tests read, measure, and reveal precise brain health insights showing your brain's unique strengths and weaknesses. We then send the results to our team of scientists and doctors for analysis to see exactly how your brain is functioning.
2. Analysis and Treatment Protocol
We use a scientific and patented approach to analyze your test results. This analysis combines expertly honed algorithms with years of historical data to derive deep insight into your brain health and locate any areas that are not functioning properly. Based on this analysis, we develop a personalized treatment plan for your specific condition.
3. Delivery of Treatment
Once your treatment plan is in place, we schedule your treatment at two-week intervals. For the first week, you'll receive five days of therapy. For the second week, you'll receive four days of therapy, followed by a new series of tests on the fifth day to evaluate your progress.
Each session lasts approximately 30 minutes, and there's no pain or discomfort involved. During your treatment session, you'll sit in a comfortable chair while a highly trained technician places a magnetic coil on your head. The precise time of stimulation is just six to eight seconds every minute.
4. Progress Evaluation
We monitor your progress throughout your daily treatments, so we can confirm how you feel and track improvements. Then, after the two-week period of treatment, we will perform a series of tests to review your progress and make any needed modifications.
If there is a positive response to treatment during the first two-week period, you're likely to notice some improvements. At that point, we'll schedule additional treatment in two-week intervals. Most conditions require a minimum of six weeks of MeRT treatments for the best results.* Some patients can be slower to respond to treatment so we recommend a minimum of four weeks of treatment to note if you are experiencing changes. If you are realizing positive changes, we would recommend an additional two to four weeks of treatment for long-lasting results.
Additionally, it's important to note that we perform treatment on patients aged 2 years and above.
* Results are based on active and strict observation of our regimens. Results may vary based on the individual user and are not guaranteed.
Questions about MeRT? Need more information? Talk to our New Patient Coordinator.
We know how difficult it can be to decide on a new treatment, particularly if past treatments haven't gotten the results you'd hoped for. You may still have a lot of questions about whether MeRT is right for you. We want to make sure you get all the information you need to make the best possible decision, and that begins with a call to our New Patient Coordinator.
The New Patient Coordinator is here to help you. She'll take the time to listen, answer questions, explain costs, and put your mind at ease. Additionally, she can help you get scheduled if you decide that yes, MeRT is the right treatment for you.
When you think about it, making this one free, no-obligation call just might be the first step in freeing yourself from the debilitating symptoms that have been taking over your life. And we want to help you do just that!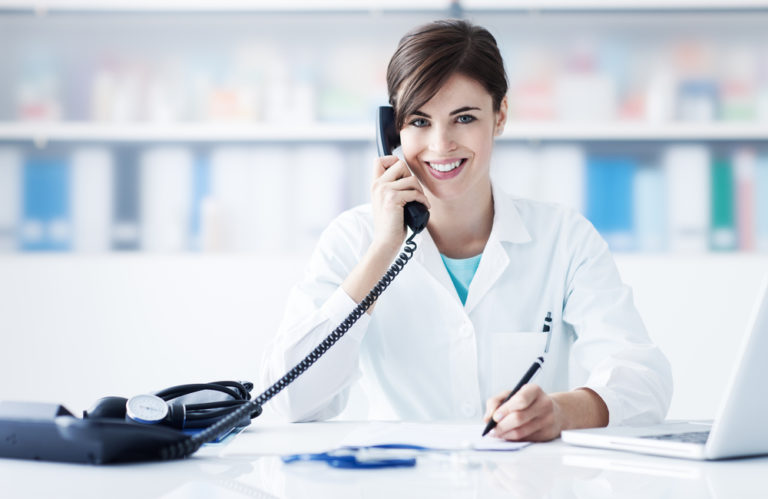 Contact our New Patient Coordinator.
Or fill out the form below and she will contact you.
Contact Us
For more information or to speak with our New Patient Coordinator, please fill in the information below.